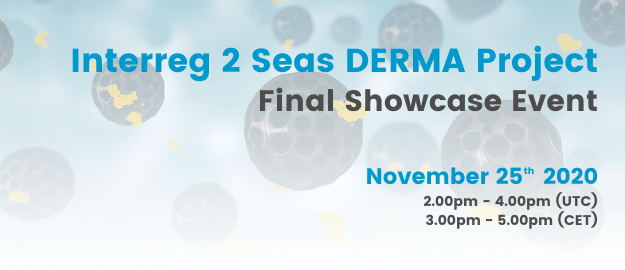 Join the DERMA project team and learn about new materials that have been developed for the care of chronic wounds – including a diagnostic material to detect infection, and new materials for wound odour control and antimicrobial delivery.
PROGRAMME
Premier of "Biomaterials in Action" | 2.00 – 3.00pm UTC / 3.00 – 4.00pm CET
Debuting our documentary film, "Biomaterials in Action", explaining the DERMA project and its results – featuring interviews with the consortium and the premier of new animations illustrating the developed technologies. With live chat feed.
Interactive panel discussions and Q&A | 3.00 – 4.00pm UTC / 4.00 – 5.00pm CET
Panel 1 – Advances in Wound Management : a discussion of the current state of play of chronic wound management, the need for innovations, and a reflection on the DERMA project results and how they fit in the wider context of wound management.
Panel 2 – Technology Transfer Workshop : experts with proven experience of product development will advise on how to realise products by bringing them to market. An opportunity for problem solving for those engaged in the field.
Open Q&A with all panellists
Panels participants will include academics, clinicians, and industry experts.